Mount Mitchell 40… um, 36… miler
I have a history with
this race
.
I first signed up for it in 2007. I'd heard stories, seen pictures, and wanted to get get a piece of the action. ITB soreness (and beating myself up a few weeks earlier at Mountain Mist) caused me to drop down to the marathon distance (still an accomplishment but not what I set out to do). I was back in 2008… but this time a groin pull had me out for a month prior, so I played it smart once again and settled for a mere 26. Then 2009… oh, what a bad winter. Ankle injuries had me out for 2.5 months. No race at all.
2010. This was THE year. I was going to do it. Mother Nature, on the other hand, had a different plan. I'm not quite sure what happened to the south this year, but we've had crazy amounts of snow. The good: I got lots of training runs in thru snow and over ice. I was prepared, both mentally & physically (
Thanks Matt!
). The bad: due to the obscene amounts of snow on the trails in Mount Mitchell State Park (we're talking 50"+, with drifts well over that), the course had to be modified. So instead of 40, we got a mere 34-36 miles. Still, with snow, ice, wind gusts topping 50mph and single digit temps at the summit (no, that's NOT including wind chill! remember, we're on the highest peak east of the Mississippi. that means extremes!), we were promised an epic race.
The race weekend started by escaping work early and driving to Asheville with teammate Kathy and R/C trail series race director Jonathan out to spectate & support, and NOT direct for a change!). We met up with more teammates, Natalie, Krissy & Matt at the pre-race briefing, where Jay wow'd us with amazing photos from earlier that day. It was not just winter up there - it was more like a desolate frozen tundra. gulp.
After some catching up, we retired to our accommodations at the YMCA Blue Ridge Assembly - a very cool lodge minutes from the start. (Thanks William & Adam!). Dinner, race prep, sleep.
Krissy & I, ready to get moving
We gathered at the start, thankful to have Matt & Jonathan to grab our down jackets before the gun went off. The race began with a 3.5 mile road run from downtown Black Mountain and thru Montreat. Normally we catch some singletrack, but our first reroute had us skipping this and heading straight up some heinous hills that warmed you up quick. From there we accessed the Toll Road - a 9 mile forest service road that led us so the Blue Ridge Parkway. Normally pretty rocky, the snow and ice almost worked to our benefit here to fill in the gaps and smooth things out a bit. The hard part was negotiating the narrow "path" left by the snowmobiles. Sometimes it was nice and wide; other times a bit too narrow for 2 feet to easily fit. After a few slips and increasingly tentative steps, I pulled on the Yak Trax - definitely good move, giving me the confidence to step wherever I wanted.
There was a strict cutoff for the Challenge once runners got to the Parkway. Make it before 10am, and you can motor on to the summit. 10:01, and you turn around (but can still complete the Marathon as an official finisher). I cruised thru at 9:22, feeling strong and rather positive. Onward and upward! I took a moment to refresh at the aid station (all of them were lavishly stocked! I took a liking to the animal crackers today), take off the Yak Trax (we would now be on a plowed road), and put on some more clothes. Once we rounded a turn, the winds coming thru the gap stopped me in my tracks. Seriously. So strong I could barely move. Luckily this would be the worst of it, but I hung around a group of others as we slowly climbed up to 6,684'. Clouds hung low, so we saw no spanning vistas; instead, we were transported to a crazy land where the trees were not only covered with snow, but reminded me of those fake white christmas trees you see. Surreal! I snapped a few pics, but the temps kept my fingers tucked inside warm mittens. Finally, a few hundred feet from the summit, we escaped the pavement and hit some trail. The early runners probably had it easiest - walking on top of a frozen crust of snow & ice. But by now it had been stirred up and I had to negotiate thru a mess that was nearly up to my knees. Once we tagged the sign at the summit, we were signed off and now officially half way done! It was all downhill from here. Literally. How hard could that be? (well, Black Mountain does sit around 2,300'....)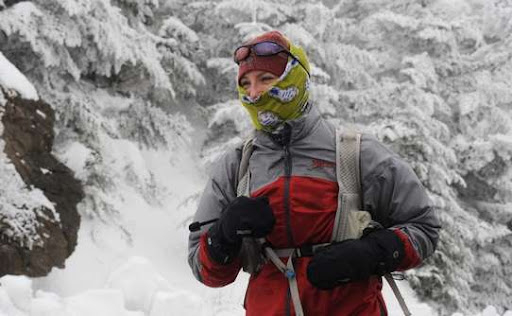 Me all bundled up! © Asheville Citizen-Times
When you don't run on pavement too much, it's a killer. There was a nice, snow-free road luring you down… begging you to haul ass and make up some time. My knees & hips were warning me though, so I was somewhat conservative. I was super happy to hit the toll road once again - snow & ice was better than asphalt. I cruised down, trying to ignore some of the aches that started to pop up. I forgot my iPod, but enjoyed listening to the woods or chatting with other runners. Time passed. And then the evil road was here again. Somehow that last 3.5 miles always takes an eternity. In my head I thought 40 minutes; 3.5-4 miles…. I can average a 10min/mile pace and make it right around 7 hrs. That should be no problem. Um, yeah. Not quite. At least half those steps were painful (I swear my kneecaps wanted to pop off my knees); sometimes I was just happy to keep a forward movement.
Finally the Lake Tomahawk came into view, along with the finish line. I hobbled across, happy to have finally made it! 7hrs, 10 min. This was good enough for 5th place which I was thrilled with! I think I surprised from friends there too :) After some delicious hot soup, dry clothes, and picking up the prized finisher's fleece, we headed back to the lodge to get cleaned up. Kathy had finished the marathon earlier that morning with a great time as her debut back after foot surgery last year. Natalie had a strong day, finishing 4th. Krissy easily won the women's division, in a speedy 5:10. It would have been great to stick around for the awards ceremony that night, as the podium went thru 5th place (Rock/Creek ladies representing!!), but the long drive back had us ancy.
me + monica, happy to be done! ©Chris Brown
my set up. much more than i normally carry, but I have to say
I was 100% happy with the choices I brought along. ©Chris Brown
Definitely happy to finally check this one off the list! Thanks to Rock/Creek, Patagonia, The North Face, Vasque & nuun for all the support! And a huge thanks to Jay Curwen and all of the race volunteers, rangers, & medics on the course ensuring us a fun and safe race!
The gear:
Vasque Blur SL shoes - These are what I've been running in all winter, so I figured I shouldn't change them up last minute.
Yak Trax
TNF Flight Series windstopper vest & momentum top
Hincapie wool longsleeve baselayer
Insport tights
Smartwool socks
Nathan hydration vest
nuun - banananuun flavor. thinking tropical to keep me warm. :)
Marmot Randonnee mittens - yes, my hands get REALLY cold, but these were worth a million to me!
Marmot Dryclimb jacket - outerwear for the ascent
Mountain Hardwear fleece beanie
Buff - the ultimate piece of gear. (wore as a neck gaiter, balaclava, and headband)
Tifosi sunglasses
CEP recovery socks
CW-X stability tights, worn for recovery afterwards
Labels: nc, race report, running